---
About us
Jacksons specializes in the best of Scandinavian and international vintage design 1900 - 2000 with main focus on Scandinavian classics.
Opening their first gallery in 1981, Paul and Carina Jackson have established one of the most extensive collections of twentieth-century Scandinavian and international vintage design. Celebrating over three decades in Stockholm, Jacksons has earned a reputation for providing an unparalleled standard of quality and expertise in the field. Jacksons maintains a deep respect for natural patina and original wear, which contributes to the unique character of these historic pieces. 

In 2007, Jacksons launched a satellite location in Berlin situated in the "Galerienhaus", alongside some of Europe's leading contemporary art galleries. Jacksons Berlin provides a platform to experiment with new forms of exhibiting and re-invigorating historical design. The gallery seeks to mediate design history with thematic exhibitions, and to promote the work of some of the finest twentieth-century designers, architects, and artists working in furniture, lighting, ceramics, glass, and textiles.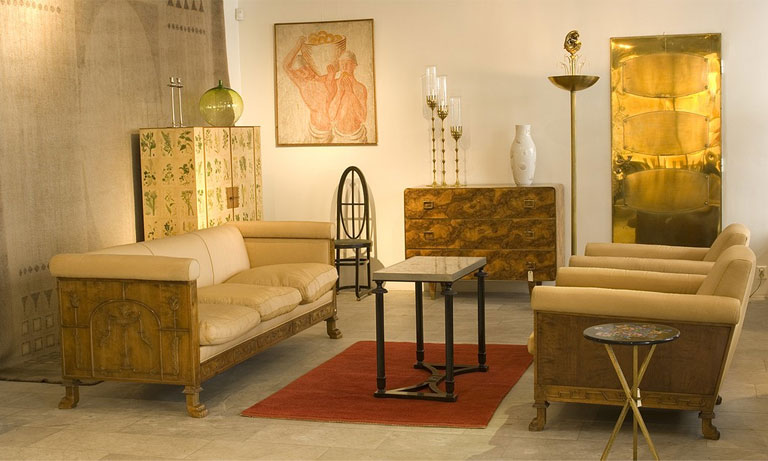 ---
Exhibitions
2015
May: Nordic Modernism
February: ASSEMBLING — GONZALEZ HAASE AAS / JACKSONS
2014
November: Swedish Grace
June: Nordic Light
March: Encounters with Aalto
2013
September: Poul Kjaerholm
October: Jacksons at Asprey London
June: Design Basel
March: The Cabinet Maker
2012
September: Alvar Aalto
June: Design Basel
March: In Order of Appearance
2011
September: Berlin Autumn Exhibition 2011
June: Design Basel
April: Spring
2010
November: Ursa Major
2009
September: Bruno Mathsson
2010
April: Suomi
July: Villa Mont Blanc
February: Finn Juhl
June: Design Basel
2008
December: Black
August: Josef Frank
May: Scandinavian Architects
---
Links
---